The Fraud Story, My 40-Yard Dash Time And BIG News…
By Alex On February 26, 2010
Under Speed Training Workouts
Hey! First off, I hope everything in your life is as awesome and exciting as what's going on in mine right now (SO much goin' on!). I have a pretty rare story I want to share with you today…
….it's a seriously embarrassing story about me and the FIRST time I ran the 40-Yard Dash, cleverly titled "The Fraud" story.
The Fraud Story
As you're probably well aware, I am naturally a very SLOW athlete.
While I was certainly hard-wired to be a smooth-talking, slightly cocky smart-ass, my speed and explosiveness were sadly NOT.
The first time I made a competitive basketball team, the coach told me after, "..the only reason you made this squad is because everyone on this team likes you and you'll be a good person to have around…but don't think you're gonna be playing a lot…you're 3 steps slow."
Sidebar: SCREW that guy, lol. </sidebar>
Anyways, I am completely aware and understand what it's like to be slower, weaker and less gifted….I also know exactly how exciting and damn rewarding it is to overcome that bullshit and end up being faster, stronger and more unstoppable than any of those genetically-gifted dudes.
So…why "The Fraud" story? Here we go…
As a stone-cold basketball player in my youth and teenage years, my focus was always on quickness and acceleration…not necessarily explosiveness or top speed. That's what I trained for (I studied the hell out of both, but it was the first ones that were a ton more important for me in basketball).
Now you should know that the 40-Yard Dash requires several types of speed and strength to be really damn good at it: Quickness and acceleration off the line, explosiveness through the first 20 yards or so and reactivity and relaxation as you enter top speed and finish out the race…so while I had the very first part of it down, I hadn't really ever trained for the strength and speed characteristics it required after.
Picture this: it's about 2 years ago, I'm training at the local high school football field on a scorching summer day, with a couple friends of mine, one a college basketball player, the other a college football player.
We're doing some dynamic warm-ups and naturally, our egos start coming into play as we start talking trash to each other…I tell Cory (football player) that basketball players are better athletes than football players.
He says that while I like to think I know everything (kind of ironic, since I actually DO know everything), I'm straight up wrong about this.
So we continue bantering about this, until he finally sets me up for the one thing I was hoping he WOUDLN'T say: "Then let's see you blast out a 40-yard dash…if basketball players are so athletic, you should have no problem crushing out a good 40 time."
Crap.
You see, even then, I still had a really good understanding of the 40-Yard Dash and all the pieces and parts that go into putting out a good time.
And I knew that while I could probably crush the first 10-yards, my time from the 10-yard mark to the 40-yard mark would be absolutely atrocious, like you knew Susan Boyle would be an awful singer (except my abysmal performance was actually about to happen).
But, my ego is still the size of a small city in the Caribbean, so naturally, I said, "Hell yeah…let's do this."
So I calmly walked over to the line as Cory set up next to me stopwatch in had.
I got into my stance and on the count of 3, I was off!
I sprung out of the gate just right, getting power from both of my feet, positive shin angle, giant first step…everything was just right.
I must have ran like a 1.75 second 10-yard split (that's pretty good, if you're not in the know).
Then It All Came Crashing Down For Me…
I hit the 15-yard mark and my quickness and acceleration were no longer such big factors; instead (at that point in the race), it's more about power and explosiveness and my weaknesses showed.
To imagine what it looks like, you know in those old Looney Tunes commercials with Speedy Gonzales where his legs would move a million and one miles and hour for a second but he'd go nowhere, then suddenly, he'd dart off into another stratosphere?
That's what I looked like, but the OPPOSITE.
Instead of me going nowhere at first then exploding away, I covered a ton of ground immediately, THEN everything would start to slow down (again, because my basketball training had only focused on mainly quickness and acceleration, and not really with any focus on the other side of the strength curve, where power and explosiveness lie closer to).
So, once I hit past that 15-yard mark, I was TOAST.
I think I made it to the finish line of that 40-yard dash at a snail's pace of 5.24 seconds (and as a well-known speed coach, Corey started calling me a "fraud", LOL).
To put that in perspective, THIS mammoth below ran a 5.12 the 40 at the NFL Combine last year:
And he probably weighs at least 120 more lbs. than me.
So, what were the main reasons why I ran the 40 so slow? Let's recap it:
No power-focused work in my training
Lack of maximal strength
No real technique training (later fixed this by developing the "12-Step 40-Yard Mastery Course")
Poor starting stance
Lacking explosiveness
Now, since we now know each other, you probably know that I wasn't about to let this poor showing be the last Corey and all them other haterz saw of me! So I went to work on my 40…
I began researching all the different technique methods out there (technique is HUGE in the 40-yard dash) and tested out all of 'em on me and the football players I work with.
After a lot of testing and tweaking, I was able to put together a 12-step formula that seemed to work incredibly well for mastering the technique of the entire 40-yard dash (now known as The "12-Step 40-Yard Dash Mastery Course").
On top of that, I figured out all of the things that were most important to *training* for the 40-yard dash:
which exercises to do…
what type of sprint training to do…
what type of quickness training to do…
what type of stretching to do…
what type of periodization model to use when you only have a short amount of time to get someone ready for the 40…
what to do on off-days to maximally decrease your 40 time…
Putting that together with the "12-Step 40-Yard Dash Mastery Course", I had an UNREAL model for DRASTICALLY decreasing 40-yard dash times in really short periods of time…
Now, before I tell you what happened with my own 40-yard dash time and whether or not I eventually made Cory eat his words, I want to take a quick second to give credit to the people who I learned the most from about the 40-Yard Dash…here's a short list of the guys who had the greatest impact on my 40-yard dash training ideas and strategies:
Joe DeFranco
Joe is probably the best NFL Combine specialist out there today. He runs an awesome gym out in New Jersey, and every year before the Combine, sports agents send him their players (and their trust) so he can train, teach and prepare them for all of the Combine tests.
He even has an awesome DVD called, "Mastering The Football Combine Tests". You can see his website at http://www.defrancostraining.com.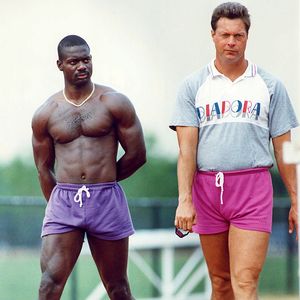 Charlie Francis (right, with Ben Johnson on left)
Olympic trainer to the world's formerly fastest man, Charlie Francis is known around the world and the Interwebz as one of the most knowledgeable and experienced speed trainers out there. I've been through all of products 3 times through and learn something new every single time (he's also a straight-forward cat, just like me, so I totally get and dig the guy).
You can see more about CF at http://www.charliefrancis.com.
Kelly Baggett
What else is there to say that hasn't been said already? I've made 2 products with KB (http://www.truthaboutquickness.com and http://www.jumphigherin4weeks.com) and they both turned out even better than I could have imagined.
I have no problem admitting I've stolen more ideas from Kelly than anyone else…his speed training manual, "No-Bull Speed Training", even today, still stands as the best book on sprint training I've ever read (and I've been through like 87,000 sprint training books).
You can see all about Kelly at http://www.higher-faster-sports.com.
Back to me…
So, what happened? Did I use all of these breakthrough training strategies to cut down my own 40 time and make Cory feel like the doofus he is?
Heck yeah I did….
Using everything I learned from the "12-Step 40-Yard Dash Mastery Course", from all of my unique, but strategic 40-yard dash specific training and workouts, from all of the off-day training and 40-yard flexibility focus, I was able to shave more than .5 seconds off my 40-yard dash and run a DAMN respectable 4.67 40-yard dash.
You listening, Cory? LOL.
And now, as I mentioned last week, I'm finally ready to release and teach all of that unbelievable 40-yard dash training to you, my VIP Game Speed Insider Subscriber in my brand-new "lower your 40-yard time" program, appropriately named "Destroy The 40".
DT40 is an all-out, 12-week assault on your 40-yard time.
Through private video coaching, it goes through the entire "12-Step 40-Yard Dash mastery Course" and simultaneously contains the most specific, most potent 12-week, 40-yard training program I could have ever designed (I spent 27 days writing out the workouts in DT40…there isn't a single detail I left out!).
On top of that, it also comes with off-day training, 40-yard specific stretches and even a few, potentially game-changing visualization techniques.
The whole program is online-based and entirely done through video, hosted on private webpages that you'll get exclusive access to as a charter member of DT40.
And because of the amount of individual time I'll be spending with each member, spots are obviously limited…the first 100 anxious sign-ups are in, and after that, doors close (really hard too…I'm a notorious door-slammer).
Oh yeah…KINDA IMPORTANT
I totally almost forgot to tell you this one HUGE nugget of info…
…when "Destroy The 40" goes live, it's FREE to start (you'll see exactly how on the day it goes live, but obviously I'm not trying to pull any strings, or cats out of hats, or any other bad analogies)…simply put, the first 100 people to sign-up are in and they get in for FREE for the entire first month (of the 3 month program).
The doors to "Destroy The 40" are opening up on Tuesday March 9 around 8 AM EST, but for now, I've got some really helpful 40-yard specific newsletters coming in the next week or so, including:
"The Speed Triad: Why You MUST Address It For A Faster 40″
"Making The Speed Triad

Work

For YOU!"
Behind The Scenes Of "Destroy The 40"
If you can't tell, I am SO DAMN EXCITED about how good "Destroy The 40" is and how many athletes are going to benefit from it…who do I think it's a good fit for? I think there are 4 types of people it'd be GREAT for:
Football Players
Baseball Players (improve your 40-yard dash and your 60-yard dash time goes OFF the charts)
Weekend warriors looking for an unreal program to guide them for 12-weeks so they can finally figure out the speed equation, get BLAZING speed and blow their friends away…I love it when friends say things like "Dude, WHAT have you been doing?" LOL
Basketball Players (but ONLY ballers who have the SKILL part of their game down and need more power and explosiveness…if your skills aren't quite there, focus on those first before entering something so advanced as "Destroy The 40")
I hope you enjoyed everything here today…I'm PUMPED!
Talk to ya later,
Alex